Fantasies Island Luxury All-Inclusive, Clothing Optional Takeover
June 8 - 15, 2024
Now taking reservations!
Ever dreamed of being stranded on a deserted island with 40-50 sexy people? Live out your fantasies on our 5 star island takeover.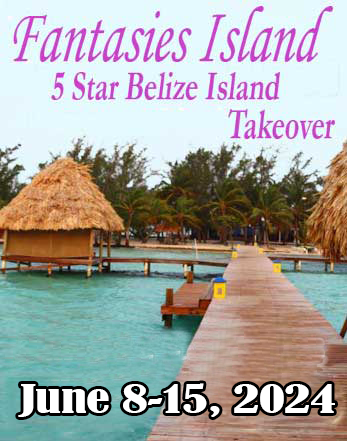 Located just under 9 miles off the small coastal town of ,Dangriga, Belize lies a 16 acre utopia. Fantasies Island Takeover Events are complete island takeovers for adult couples only (3 sums allowed). Indulge in the fantasy you've dreamed of, the warmth of the tropical sun, the coolness of the tropical island breeze. This is the five star island you have dream of where only you can set the limits of adventure.
Set just steps away from the Caribbean Sea, these private oceanfront accommodations create a world of romance while providing you with just enough temptation to drop your clothes and take in it's beauty . The epitome of an island escape, all cabanas are stand-alone and have large balconies.
This Fantasies Island Retreat features Standard Cabanas, Jr. suite style, and Premium Master suite style cabanas as well as one three bedroom / three bathroom overwater villa all with exteriors dressed in bold, tropical colors and spacious balconies overlooking the azure Caribbean Sea. From Cabana Rainforest to Cabana Journey, each accommodation type has a name reflective of the atmosphere and location along the coast of our island paradise. Complete with a king-size bed, modern amenities, and large windows framing unforgettable views, each cabana captures the true essence of a private island retreat.
All of our Belize all inclusive accommodations are strategically positioned facing east offering spectacular sunrise views and cool sea breezes. Each of our standalone cabanas are set up in a bit of a staggered pattern to enhance privacy. No cabana obstructs the view of another. The cabanas that are set further back have a great view and get the additional benefit of even more privacy.
After a day of soaking up the sun on your own island located 8 miles off the coast of Hopkins, relax in the comfort of our unique Belize accommodations.
Our oceanfront cabanas are the perfect hideaway for you and your loved one.
This event sells out every year.
Getting to Fantasies Island
The easiest way to get to Fantasies Island is fly to Philip S.W. Goldson International Airport - Belize (BZE) From there you will take a flight from BZE to Dangriga Airport (DGA) Via our Transfer Company (Not included in the cost).
After arriving in Dangriga you will be taken to a small port where our Island transport boat will take you on a 25min boat ride across some of the most beautiful waters in the world (included in cost) .
After You Arrive
You will be greeted by our staff with an ice-cold drink and you will step into our carefree island escape filled with both romance and excitement.
Current payment plan for Fantasies Island.
Payment Terms:
Deposit - $500/per person
July 1, 2023 - 25% payment
September 1, 2023 - 25% payment
November 1, 2023 - 25% payment
January 1, 2024 - 25% payment
Tips Not Included
Cancellation Policy/Fees
Deposit is non refundable, but transferrable minus a 10% cancellation fee up till November 1, 2023
November 1, 2023- December 1, 2023: $1000 per person cancellation fee
December 2, 2023 - February 1, 2024: 50% penalty
After February 1, 2024: Full penalty - No Refund