Fantasies Island Luxury All-Inclusive, Clothing Optional Takeover
May 29-June 5, 2022
Ever dreamed of being stranded on a deserted island with 40-50 sexy people? Live out your fantasies on our 5 star island takeover.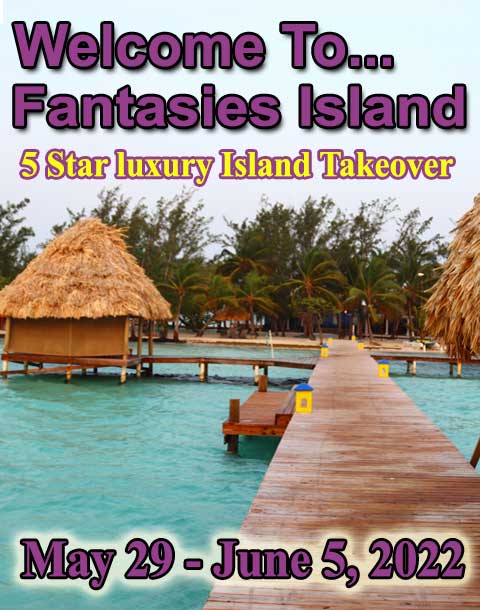 Located just under 9 miles off the small coastal town of ,Dangriga, Belize lies a 16 acre utopia. Fantasies Island Takeover Events are complete island takeovers for adult couples only (3 sums allowed). Indulge in the fantasy you've dreamed of, the warmth of the tropical sun , the coolness of the tropical island breeze. This is the five star island you have dream of where only you can set the limits of adventure.
We will supply the nightly themes to entice the evenings and five star cuisine to satisfy the soul. Let the drinks flow and the entertainment soar, it is time to celebrate a release from our everyday lives to the fantasy of be stranded on an island with up to 48 other like minded friends. Our Fantasies Island Takeovers will entice your evey sense.
The island rests on the second largest barrier reef in the world, so it is one of the best area in the world to scuba dive and go snorkeling. This is truly the paradise you have dreamed of. This 5 Star Resort offers luxurious accommodations and world class amenities. Indulge yourself with local meals and drinks.
Explore the island or spend the day at the clothing optional beaches where turquoise water shimmers in the hot Belizean sun
CALL 1-833-243-8938
Getting to Fantasies Island
The easiest way to get to Fantasies Island is fly to Philip S.W. Goldson International Airport - Belize (BZE) From there you will take a flight from BZE to Dangriga Airport (DGA) Via our Transfer Company (Not included in the cost).
After arriving in Dangriga you will be taken to a small port where our Island transport boat will take you on a 25min boat ride across some of the most beautiful waters in the world (included in cost) .
After You Arrive
You will be greeted by our staff with an ice-cold drink and you will step into our carefree island escape filled with both romance and excitement.
Current payment plan for Naughty Island.
Deposit $500
Then Equil Payments as follows
July 1, 2021
Sept 1, 2021
Nov 1, 2021
Final Payment January 1, 2022
Cancellation Policy/Fees
Up to July 23, 2021: $100.00 per person ($150 pp for Suites)
July 23, 2021 - November 23, 2021: $250.00 pp
November 24, 2021 - February 23, 2022: 50% penalty
After February 22, 2022: Full penalty