We Are
W

orld

E

xotic

T

ravel - #GETWET
We would like to thank everyone that voted us Lifestyle Travel Agency of the Year by ASN Magazine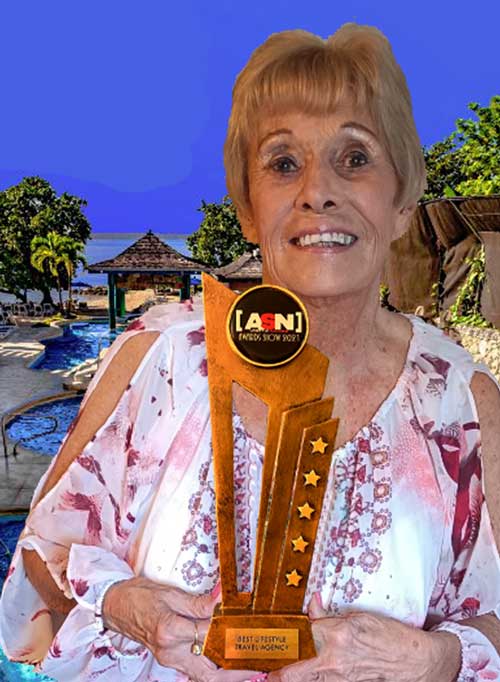 World Exotic Travel (W.E.T.) is one of the largest lifestyle and clothing optional travel agencies in the world. We specialize in helping clients find the perfect getaway, whether a cruise, resort or one of our once in a lifetime bucket list trips. We can help you reach all the corners of the world and enjoy amazing experiences while being free to be yourself – or even to find your new self. We want to ensure that you get the most out of your hard-earned vacation dollars.
When you book with World Exotic Travel, you'll enjoy personal assistance from one of our expert travel consultants. They'll plan every detail by listening to your wants and needs, and by using their exceptional knowledge and personal experience to hand-tailor your ideal vacation package with the best benefits and resort deals available. Plus, with our customer assistance, you can travel with confidence knowing we're here for you throughout your adventure. At World Exotic Travel, we specialize in you!

In early 2018, John and Sheila leveraged their many years of experience with Dream Pleasure tours to start an exciting new company with some amazing partners that shared their vision and have incredible knowledge of the lifestyle and clothing optional travel business. With our wonderful team created, we were able to expand and grow as a company.

At W.E.T., we realize that the lifestyle and clothing optional resorts like Hedonism II, Temptation Resort, Desire Riviera Maya and Desire Pearl were where our clients wanted to travel. We work closely with the resorts to offer up to the minute reservations and secured online booking and payment availability. WET also offers our clients many options when it comes to lifestyle friendly and clothing optional cruising. We have partnered with Bliss Cruise, as well as Desire Cruises, Temptation Cruises and LLV, ensuring that our clients can have the opportunity to choose the right vacation fit for them. These resorts and cruises are our bread and butter, they are what clients love and come back to again and again – and we are more than happy to help them book their next trip.
Word Exotic Travel created our Bucket List, once in a lifetime trips for the more adventurous client, as well as new and exciting offerings for our legacy partners, including:

• A 105' luxury diving yacht in the Exuma Islands to provide an amazing lifestyle-friendly, clothing-optional dive and snorkel trip to our clients. This went over quite well and had great reviews, so we decided to bring our clients another opportunity to board this yacht for a week of amazing diving and snorkeling adventures – coming up September 17-24th, 2022 with our Lifestyle Liveaboard. Join us for the most amazing adventures with a top-notch dive crew to ensure the best diving experience possible.

• Fantasies Island takeover – with the option for our clients to experience a blissful week of luxury at a 5-star resort that lies 8 miles off the coast of Belize in the tropical Caribbean waters. This takeover has become a yearly event, with the next takeover scheduled for May 29- June 5, 2022. Come join us for a true luxury vacation where you will be spoiled by the staff and enjoy a relaxing vacation in paradise.
We look forward to some incredible upcoming opportunities with the opening of Temptation Miches and Temptation Grand in the Dominican Republic. Both resorts are slated to open October 1, 2022.

Temptation Miches Resort is making a splash in the Dominican Republic! With exciting pool parties and sexy theme nights, the party begins the minute you step foot on their paradisiacal playground. Discover the signature topless-optional areas: their world-famous Sexy Pool and the Quiet Pool. Each of these spaces is guaranteed to take your guest experience to a whole new level.
Temptation Miches Resort features six restaurants, a coffee shop, and a late-night snack bar. Additionally, enjoy domestic and international beverages at seven bars throughout the property, plus 24-hour beverage service. If you seek a place where you can relax, explore, and party, Temptation Miches Resort is the place to be!
For a seductive couples-only getaway, Temptation Grand Miches Resort offers an exciting Jacuzzi Lounge and a pool that are au naturel (only the jacuzzi and the pool are au naturel; clothing is required at the beach), a Playroom, stimulating daytime activities, and sensual theme nights that will take you to experience steamy fun like never before. Additionally, the 114 captivating rooms and suites, with exquisite décor and VIP services, are sure to please you.
With a wide variety of restaurants, our chefs serve fabulous international cuisine. And because it's always happy hour at Temptation, enjoy your favorite cocktail or beverage of your choice 24 hours a day. Experience the already perfect Temptation vacation in a sexier-than-ever way in the Dominican Republic!
We at World Exotic Travel would like to introduce you to our exceptional partners. Together, our partners share over 125 years of experience with lifestyle and clothing optional travel.
MEET THE OWNERS
Sandy Jones is our top agent. You will often find her answering our phones or sitting at the desk at Hedonism ready to greet clients as they arrive to the resort. Sandy started her career with Lifestyle Tours and Travel about 30 years, somewhere in the mid 1990's. She was there till they closed in 2008. Sandy worked closely with Dr. Robert McGinley who was a pioneer in lifestyle and clothing optional travel. She, along with business partner Gary Booth, also assisted in the making of Desire properties, especially Desire Pearl in Cancun. She traveled extensively around the globe to places like Jamaica, Mexico, Hawaii, Costa Rica and Vegas for lifestyle related tours. She assisted with huge lifestyle conventions, as well as group trips to many countries. In 2008, after the closure of Lifestyle Tours and Travel, Sandy continued to be the top seller of Hedonism II in Jamaica. She was instrumental in saving January, "Lifestyle Month" at Hedonism in Jamaica. She worked hard to ensure her clients continued to enjoy their January travels to Hedonism with their favorite groups. She joined Dream Pleasure Tours in 2017 and quickly became their top agent. In 2018, Momma Sandy came home to WET as not just our top travel agent, but also an owner. At World Exotic Travel, Sandy specializes in guest relations where she helps to solve client's problems and make sure that they are content with their vacation and the resort or cruise of their choice. Sandy states that the times that she spent with the lifestyle travel community are her most enjoyable. She hopes to continue as long as possible and looks forward to seeing many old friends and making some new, lasting relationships.
John and Sheila started their journey in lifestyle and clothing optional vacations back in 2013 as an affiliate of Couples Cruise. By 2015, they moved their affiliation to Dream Pleasure Tours to be able to offer clients opportunities to travel to Jamaica and Mexico as well as all the lifestyle cruises. In 2016, they came aboard Dream Pleasure Tours as part owners as well as General Manager of the company. In early 2018, they broke away from Dream Pleasure Tours when the senior manager retire. They went on to form World Exotic Travel and began managing their own lifestyle and clothing optional travel agency. By early 2019, they actually purchased Dream Pleasure Tours and now run it as an affiliate travel agency. They worked hard to grow their company and partnered with others that were very familiar with lifestyle travel. The company steadily grew and by early 2020, they had managed to become owners of one of the largest lifestyle and clothing optional travel agencies in the world. Through the pandemic, they worked hard to keep the business thriving. This proved to be instrumental and in 2021, our clients voted us the "Best Lifestyle Travel Agency" by ASN Magazine.
Gary Booth can often be found answering the phone or helping to close out group contracts with resorts. Gary started his lifestyle business history in 1992 with his first trip to Hedonism II. Gary was the only single on a group of 45 couples. After that he was hooked. He worked for Lifestyles Tours & Travel in Anaheim Ca. between 1994 – 2009, where he hosted club and event promotions all over North American. Gary was heavily involved in the planning and promotion of the Lifestyle Convention in Las Vegas events until 2008. He was instrumental in the opening of Desire Pearl and had the privilege of hosting the first group to Desire Riviera Maya. He was even there the first night the resort was open to the public. In 2009, he became one of the founding partners for Dream Pleasure Tours. Gary had a wonderful time helping grow the travel business, meeting new people and making lots of new contacts and friends over the years. Dream Pleasure Tours unfortunately ran its course with two partners deciding to retire and enjoy that life. In 2018, the company closed. So, times change…..
"In 2018 my current partners John & Sheila, Mike and myself decided the time had come for new state of the art lifestyle travel company…. So World Exotic Travel was born.
We are already up to 20 groups per year including, Hedonism, Desire RM, Desire Pearl and Temptation Cancun. And now we are looking forward to the new Temptation Resorts opening in the Dominican Republic in October 2022." Gary also enjoys diving and just exploring the different cultures and locations that World Exotic Travel has to offer. Please feel free to contact him if have any questions or if you are looking to book that next great vacation!

Michael and Suzanne have been in the Lifestyle since 1998. Mike states "It is part of who we are, not an occasional fling." They owned an off-premise club in Denver, CO called Rocky Mountain Connections Social Club, where members started calling Suzanne "Lady Suzanne." The name stuck and is still used today. (They called Michael "Mr. Lady Suzanne").
While operating RMCSC, they became interested in lifestyle travel. What can be better than to travel to exotic places (or even less exotic 'party' destinations) with Lifestyle friends – past, present and future? Michael is a webmaster and began developing websites and booking engines for organizations that specialize in Lifestyle travel. Soon they were going to Lifestyle Conventions and Naughty in N'awlins, resorts like Hedonism and Desire, and of course, cruises like Bliss and Desire Cruises. We discovered European cruises, River cruises, and the popular Caribbean party cruises.
It's hard for them to choose a 'best' experience. Group trips to Hedo are a good way to experience a great destination with a group of like-minded people. Each group has its own vibe and energy. Conventions give them the opportunity to visit interesting destinations, like New Orleans, and party with friends that they were able to see every year.
Cruises fall into 3 categories – Destination cruises, river cruises and party cruises. Destination cruises offer exciting ports in Europe or the Mediterranean where you can tour all day and party all night. River cruises give you a more personal experience on smaller boats with many interesting stops in quaint villages. The granddaddy of them all are the party cruises. These go primarily to Caribbean destinations where you can swim, party and drink all day and return to the ship to continue the party in the disco or dedicated playrooms. There's nothing quite as intoxicating as enjoying life with a couple of thousands of your closest friends!
The World Exotic Travel team believes you should have as much fun as possible on your group trip to Hedonism II or Desire resorts or our Fantasies Island takeover, so we love providing world class DJs and entertainment.
ENTERTAINMENT
We are very proud to have 2 amazing DJ's and entertainers with DJ Rockin' Ronnie and entertainer/DJ Joe Cheeta.
DJ Rockin' Ronnie has an amazing resume – he started his career at the world-renowned Studio 54. He is the lifestyle's most requested DJ – working his magic at Hedonism II, Desire and multiple lifestyle cruises.
Entertainer/DJ Joe Cheeta pioneered Gameshow Junkies where he takes his entertainment to several local establishments and career events. Joe has been a professional entertainer for over 30 years.

World Exotic Travel also welcomes our new agents – Larry, De and Tiffany. Larry started his career with the popular "Show Me" conventions in the Ozarks and hosts Zoo Krew at Hedonism each year in the Spring and Fall. De and her Husband Ray opperate Club Euphoria and the Podcast Euphoria Chronicles You might be lucky enough to speak to Larry, De or Tiffany when you call us. De is the host for our Suns Out Buns Out group that travels to Hedonism II every March. This group has grown each year and has a history of being one of the most fun providing groups we have. If you'd like to travel with this great group, just give De a call and schedule your next vacation for March 5-12, 2022.