Temptation Adults Only Cruise 2025
Temptation Cruise: February 24 to March 1, 2025
Get ready for the ultimate adults-only getaway that promises to surpass all your expectations! Join us from February 24 to March 1, 2025, for Temptation Caribbean Cruise#5, This extraordinary voyage aboard the Pearl, a Norwegian Cruise Line super ship, is designed to elevate your vacation experience to new heights.
Embarking from the vibrant city of Miami, Florida, we'll set sail towards the enchanting shores of Ocho Rios, Jamaica, for a thrilling adventure. Our next destination is the idyllic Stirrup Cay, Bahamas, Norwegian's very own private paradise. Finally, we'll return to Miami, with two blissful days at sea along the way for you to unwind and indulge in endless fun.
Prepare to be astounded by our cutting-edge entertainment, where we push the envelope to deliver an unforgettable experience. You'll have access to exhilarating features, including topless-optional areas, a couples-only playroom, engaging workshops, lively pool parties, and iconic theme nights that will create waves of excitement at sea and beyond.
To ensure your voyage is stress-free and packed with culinary delights, we offer a choice of seven dining venues, an Unlimited Open Bar beverage package, and an impressive lineup of 16 bars. For those seeking even more indulgence, you can opt for room service, savor the delectable offerings of our six specialty restaurants, and recharge with a Starbucks coffee at your convenience.
Join us on Temptation Caribbean Cruise number five, where adventure, luxury, and unparalleled entertainment await. It's time to set sail on a journey like no other, where every moment promises to be bigger, better, and cooler than ever before!

Lifestyle Liveaboard Adventure Cruises
September 14-21, 2024 - Snorkel, Scuba, Eco-Excursions & Much More!
Luxury accommodations await you! This Couples Only (singles allowed as 3rd or 4th in cabin) Clothing Optional Lifestyle Adventure Yacht boasts three levels of living space, private oversized cabins with ocean view windows (not dinky portholes) and fully en-suite amenities make living on board feel like you are on your own floating bed and breakfast! Our dive deck is over 900 square feet and there is ample room for everyone. Our gourmet chef will have you salivating! Our professional crew will see to all your needs on board.
We cruise from Nassau to the remote islands of the Exumas, especially the Land and Sea Park, the most pristine area in all the Bahamas. No crowds, no set itineraries, just sit back, relax and choose from an incredible variety of activities including scuba diving, snorkeling, kayaking, fishing, sunbathing, and island exploring. Our cruises offer a large variety of dives; including shark dives, blue holes, swift drifts, walls and reefs at all depths. You'll log up to 26 dives in one week and each will be unique and unforgettable! Nitrox is available.


All Rates & Fees are per person based on 2 in a cabin
(tips not included)
Call Now for Early Bird VIP cabin selection 833-243-8938
Cabin
Bedding
Port Fees
Cost Per Person

1

2 twin

$ 399.00

$ 3,322.80

2

2 twin

$ 399.00

$

3,322.80

3

2 twin

$ 399.00

$

3,322.80

4

2 twin

$ 399.00

$

3,322.80

5

1 King

$ 399.00

$ 3,484.00

6

1 King

$ 399.00

$ 3,484.00

7

1 King

$ 399.00

$ 3,484.00

8

1 King

$ 399.00

$ 3,484.00

9

1 queen 1 twin

$ 399.00

$ 3,380.00

10

1 queen 1 twin

$ 399.00

$ 3,380.00

11

bunk beds

$ 399.00

$ 3,118.96
Call Now for Early Bird VIP cabin selection 833-243-8938

Included
Accommodations

Meals & Non Alcoholic Drinks (except dinner Friday night

Draft IPA beer, wine and local alcohol

All dives

All shore excursions

Tanks and weight belts
Not Included
Dive and snorkel gear (available for rent)

Crew gratuity (15% recommended)

Dinner Friday night

Airfare to Nassau

Nitrox

Transfers on Saturday to and from airport ($20/person each way)
Gear Rental and some activities are additional and charged by the resort!
Call Now for Early Bird VIP cabin selection 833-243-8938

The Adventures
Dive Sites

Eco Adventures

Lost Blue Hole

Periwinkle Reef

Amberjack Reef

Austin Smith Wreck with Goliath Grouper

Cathedral

Jeep Reef

Pillar Wall

Washing Machine, a favorite among divers

Tail Wall

Hole in the Wall

Jakes Hole

Monolith

Snorkeling near mangroves and beaches

Feed native iguanas

SUP (Stand Up Paddleboarding)

Hiking at Warderick Wells Park

Beachcombing for shells

Kayaking

Island Exploring

Snorkeling at wrecks and reefs

Clothing-optional beaches on deserted islands

Swimming with the pigs
Call Now for Early Bird VIP cabin selection 833-243-8938
The Experience
The Vessel
TThe newest member of our Bahamas fleet is the 102-foot long scuba diving liveaboard. The tri-level Aqua Cat offers 11 passenger cabins – some of the largest in the dive live aboard world, a spacious dive deck, a main salon for dining and relaxing, a sundeck with a panoramic view, and an alfresco bar..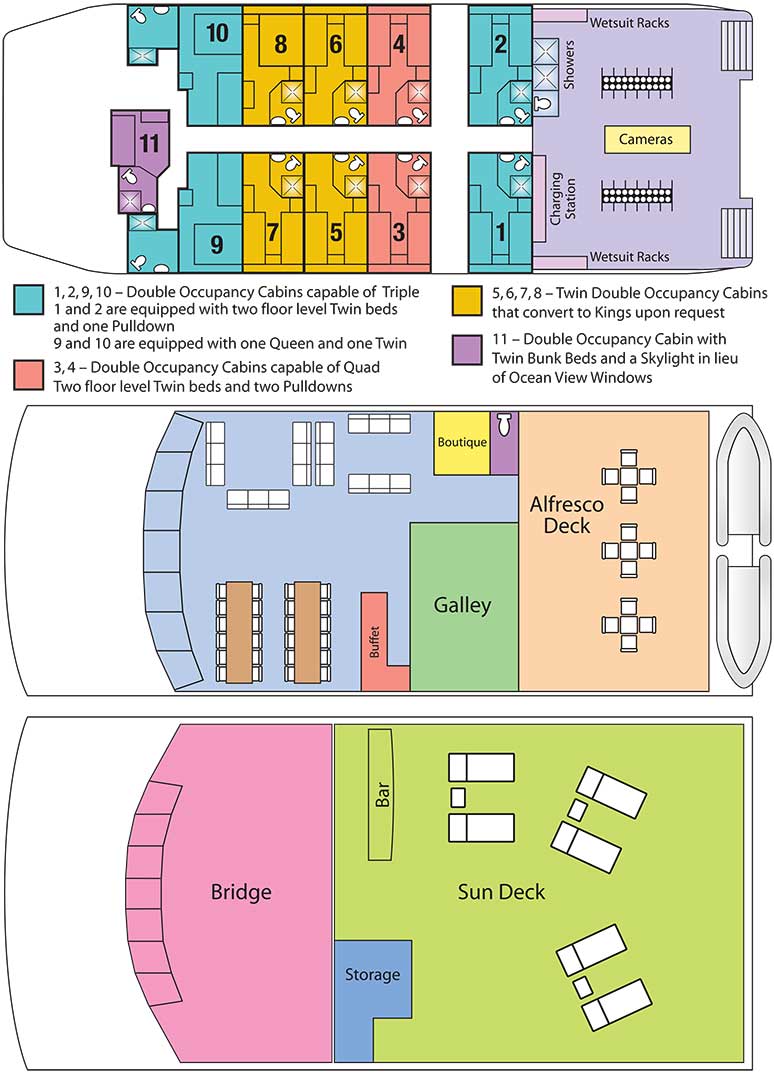 Call Now for Early Bird VIP cabins 833-243-8938
All Fees are per person based on 2 in a cabin
Call Now for Early Bird VIP cabin selection 833-243-8938
The Early Bird Price*
*Prices do not include gratuity
Call Now for Early Bird VIP cabin selection 833-243-8938
GROUP TOUR PAYMENTS:
All payments will be charged automatically to the credit card you provided to us on or within a week following the dates listed in the payment schedule section of this invoice. Receipt of this invoice gives World Exotic Travel permission to bill your credit card on file for all requested payments unless other arrangements have been made in writing. All payments will appear on your statement as either World ET LLC or World Exotic Travel.
If you wish your payments to be charged to a different credit card, please contact us by phone or email at This email address is being protected from spambots. You need JavaScript enabled to view it.. If you would like to make payment arrangements, it must be in writing to This email address is being protected from spambots. You need JavaScript enabled to view it.. We are willing to accommodate reasonable payment requests.
Payment Plan
Deposit Due At Booking - $500pp

25% Payment Nov 1, 2023

25% Payment Jan 1, 2024

25% Payment March 1, 2024

Final Payment May 1, 2024
Cancellation Policy:
All cancellations must be made in writing only to This email address is being protected from spambots. You need JavaScript enabled to view it..
Deposit is nonrefundable but *transferable minus 10% Penalty – may transfer to any other W.E.T.. sponsored reservation
Cancellations Before Oct 30, 2023 - $250/ Person penalty
Cancelations Between Oct 31, 2023 and Nov 30, 2023 - $500 / Person penalty
Cancelations Between Dec 1, 2023 and Mar 1, 2024 - $1000 / person penalty
Cancelations on or after Mar 1, 2024 is non refundable
*deposit transfers are available minus 10% if we resell your cabin.
If paid in full prior to cancellation, we will attempt to resell your cabin. Refunds/Credit will be issued approximately 2 weeks after the trip date - ONLY if the trip departs full. We will issue a 50% refund and 45% future Credit (5% penalty for reselling cabin).
Policy for trip interruption due to a named storm: Aquacat offers a future credit for any days missed due to a named storm. Due to busy schedules, we won't place a time limit on the use of this credit- however, any credit issued is at the discretion of Aquacat in the event of storm interruption. We highly recommend trip insurance for all travel expenses.

DESIRE GREECE – TURKEY CRUISE - SEPT. 21 – 28, 2024
Athens, Greece - Bozcaada - Istanbul - Ephesus - Mykonos - Santorini -

Athens
The first-ever Desire itinerary to depart on a luxurious Oceania ship will be the Greece-Turkey Cruise. The sensuous, detailed design and rich amenities of this exquisite floating paradise, which is one of the finest examples of European craftsmanship to be seen to date, reflect a new level of effortless elegance and sophistication.
Couples will cross the gangway in Athens, Greece, deemed as the mythological crossroads between past and present. From there, we will cruise Turkey's gorgeous, paradisiacal coastlines toward Bozcaada, Istanbul, and Kusadasi (Ephesus). Next, we are off to Mykonos and Santorini, all before returning to Athens where we will say goodbye until next time.
Couples will be enchanted by the brilliance, decadence, and plush luxury of each of the ship's elegant staterooms and suites, which also have the warmth and joie de vivre of a stylish Parisian apartment. These bright, roomy cabins, which underwent a complete renovation in 2022, have designer accents that give them a posh, sophisticated feel.
With nine separate beautiful locations serving up gastronomic treasures, this Oceania ship's cuisine is the best at sea, escorting couples to high levels of enjoyment. The Prestige beverage package and 24-hour room service are also included in addition to the exquisite dining.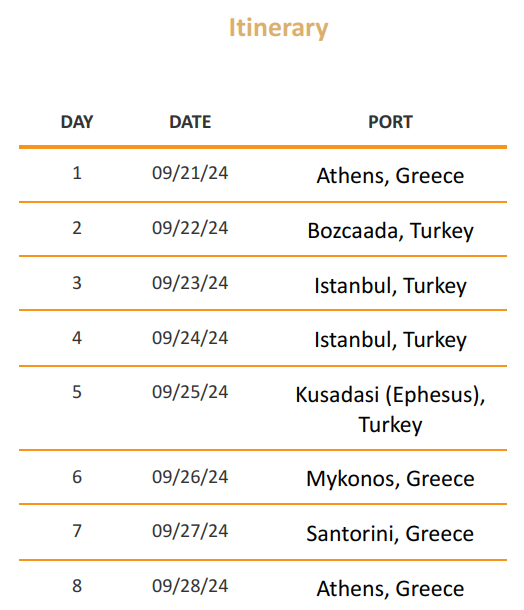 WHAT'S INCLUDED
The Desire Greece – Turkey Cruise boasts sublime sophistication and sensuality in every detail. While on board, couples can enjoy an array of seductive VIP services and amenities which are sure to please, in addition to exquisite gourmet cuisine, complimentary alcoholic beverages, sensual entertainment, and spicy activities, each designed to captivate the senses and fulfill your every desire.


PRESTIGE BEVERAGE PACKAGE
The Prestige beverage package, included on this voyage, offers unlimited premium spirits, such as champagne, wine, and beers, wherever and whenever you like.
Note: The Prestige package does not apply to bottles of wine, private bar (in-room minibar), tobacco products, package sharing, multiple orders, specialty food items, cover charges, or in-room bottles.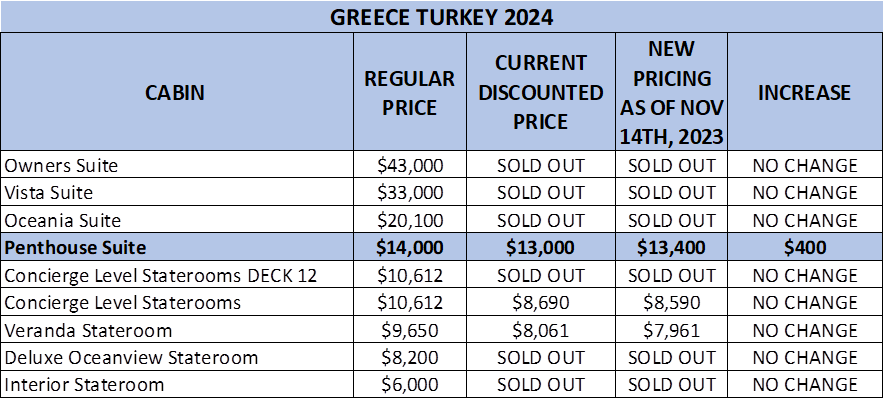 Rates in $USD per Cabin based on Double occupancy
Taxes and Tips: extra.


Prices are per cabin per stay in $USD. Deposit necessary when booking. Payment plan is available. All Staterooms will have a one time additional charge of $400.00 (USD ) p/p, and all Suites $450.00(USD ) p/p; (not included in above prices); this will be added to final payment. This covers - Port Charges, Taxes, Document Fees, Gratuities, Administration & Security Fees. We strongly encourage cruise Protection Insurance.


Whats Included?
INCLUSIVE FINE-DINING VENUES
You and your partner will enjoy gastronomic ecstasy at sea on a true culinary journey that includes 7 fine dining restaurants and 2 casual venues.

The Grand Dining Room |Elegant main dining room

Terrace Cafe | International dining

Waves Grill | Al fresco American favorites

Polo Grill | Surf & turf

Toscana | Authentic Italian specialties

Jacques | Phenomenal French cuisine

Red Ginger | Contemporary Asian classics

Raw Juice & Smoothie Bar | Healthy breakfast options | Casual venue

Baristas | Specialty coffee, pastries, and finger sandwiches | Casual venue

For an additional fee, passengers can also enjoy La Reserve by Wine Spectator, which offers extraordinary pairing dinners with legendary Oceania partners, such as France's premier champagne house, Moët & Chandon; or host a private party for up to ten guests in our most exclusive on-board dining venue: Privée.

ROUND-THE-CLOCK ROOM SERVICE
After a day of enriching shore excursions or various activities on board, you may dine in the privacy of your suite or stateroom. An extensive room service menu is available around the clock.


COMPLIMENTARY INTERNET SERVICE
With our complimentary wireless internet service, stay in touch with those back home. Limited to one device per stateroom.


CLOTHING-OPTIONAL AREAS
The pool deck and sun decks are the designated clothing-optional areas on this voyage.


STIMULATING POOL PARTIES
A broad array of daring activities and pool parties, each with Desire's sensual touch, will surprise and seduce you.

To get ready for a wet goodtime, see our program of pool parties HERE.


COUPLES WORKSHOPS & SEMINARS
The workshops and seminars on board will entertain and educate you with actionable steps and useful information to add some spice to your sex life.


SENSUAL THEME NIGHTS
To satisfy all of our passengers' desires, our erotic, enticing theme nights will set the mood for seduction at its finest.

See our program of theme nights HERE.

PLAYROOM
This intimate, erotic hotspot with a sensual atmosphere is for couples seeking to live out their forbidden fantasies at sea.

SPORTS DECK
High atop the ship, revel in breathtaking views and refreshing sea breeze with a bit of outdoor activity. Things to do: putting green, shuffleboard, pickleball, fitness track, paddle tennis, bocce, and croquet.

CONCIERGE SERVICE
For personal guidance and reservations, we are always ready to assist you.