Get Naughty at Hedonism Resort March 28 - April 4, 2020
World Exotic Travel joins Naughty Events and Hedonism II resort to bring you the hottest adult swinger event of the season
W.E.T. creates a tsunami of fun next spring as we join Naughty Events to host the wildest Hedo party ever.
Theme Dances
Pool Parties
Erotic Games
Educational Seminars
Prizes and Giveaways
Heart-pumping Music
Fascinating Costumes
This is the first time that 3 major names in the adult, lifestyle travel and entertainment industry have come together for this historic event.
Experience the most Exciting Adult Playcation of 2020
Naughty at Hedonism: - The perfect combination
Hedonism II is world's premier adult clothing optional, lifestyle resort
Naughty Events hosts the most exciting lifestyle conventions and events, including the thrilling Naughty in N'awlins
World Exotic Travel is your tour resource for adult resort, cruise and conventions
More about us
Hedonism 2 is an adult-only, all-inclusive resort in Jamaica. Hedonism sets the standard for all-inclusive, clothing-optional resorts.
All-you-can-eat
All-you-can-drink
Swim-up bars
Clothing optional
Nude and Prude areas. Be as daring, or shy as you like
Lifestyle friendly
Newly Renovated areas
Naughty Events has been hosting exciting conventions since 1998. Their Naughty in N'awlins conventions hosts over 2000 swingers and alternative lifestyle partiers on Bourbon Street in New Orleans.
Naughty Events are known for their innovative parties, unique entertainment and open-minded philosophy. They provide a setting where participants can explore their fantasies in a safe and sex-positive environment.
World Exotic Travel has over 100 years of experience in the adult travel industry.
World Exotic Travel has some of the most experienced lifestyle travel experts in the industry. Sandy knows more about Hedonism II resort than Hedo employees do! Give her a call 833-243-8938
Call 1-833-243-8938
Don't miss out on this historic event. Book Naughty at Hedonism Resort Now with as little as $500 deposit. You don't want to miss this!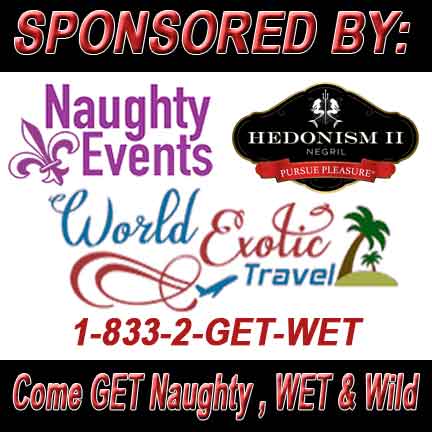 Naughty at Hedonism resort 2020
Saturday March 28 2020 and Saturday April 04 2020
In order to qualify you must book a min of (5) Five Nights Between Saturday March 28 2020
and Saturday April 04 2020
Default Payment Plan
$500 Deposit Due at time of Booking
January 28th, 2020 - 80% of balance due
February 28th, 2020 - Full payment due
We are willing to work with any Budget Please Call Us At 1-833-2-GET-WET


Cancellation Terms


Any cancellation made Before 11/28/2019 is subject to a $150 / person cancellation fee.
Any cancellation made on our After 11/29/2019 is subject to 25% Penalty
Any cancellation made on our After 12/30/2019 is subject to 50% Penalty
Any cancellation made on our After 01/28/20 is subject to 100% Penalty