Hedo gets Naughty and WET March 28 - April 4, 2020
Experience the most Exciting Adult Playcation of 2020
Join W.E.T. as we partner with Naughty Events for an event you won't forget
Hedo is one of the world's premier adult clothing optional resorts. If you have never been, now is the time. If you HAVE been to Hedo, you've never been to Naughty Hedo. W.E.T. creates a tsunami of fun next spring as we join Naughty Events to host the wildest Hedo party ever.
Theme Dances
Pool Parties
Erotic Games
Educational Seminars
Prizes and Giveaways
Heart-pumping Music
Fascinating Costumes
Hedo is an adult-only, all-inclusive resort in Jamaica
All-you-can-eat
All-you-can-drink
Swim-up bars
Clothing optional
Nude and Prude areas. Be as daring, or shy as you like
Lifestyle friendly
Newly Renovated areas
Hedonism sets the standard for all-inclusive, clothing-optional resorts.
W.E.T. and Naughty set the standard for adult entertainment.
NIGHTLY RATES - Lowest Rates Guaranteed

5 Night min

Category
Per Person
Single in a Room
BOOK NOW

Garden View Reg
$250
$375
BOOK NOW
Ocean View Reg
$301
$451
BOOK NOW
Garden View Nude
$287
$431
BOOK NOW
Ocean View Nude
$321
$482
BOOK NOW

Nude Breach Jacuzzi Premium
$487
$731
BOOK NOW

Ocean View Nude Upgrade
$406
$609
BOOK NOW

Garden View Nude Premium
$417
$618
BOOK NOW

Don't miss out on this historic event. Book Now with as little as $500 deposit. You don't want to miss this!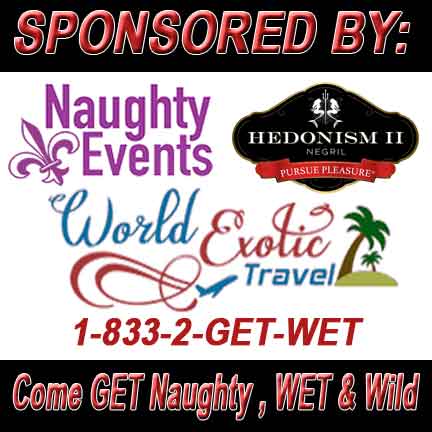 Your Hosts
Tess & Bob,
Tess & Bob, met in college 33 years ago and have been partners in life and business ever since. Tess is the 1st girl Bob ever kissed in his life. About 7 years later, she asked him what he thought about having a 3 some and their lives were forever changed. They currently spend their time between their home in the French Quarter of New Orleans and traveling to promote their events.

Bob & Tess started having Naughty Events in 1997 and grew out of small monthly house parties in New Orleans. When their parties grew to the point that they were drawing over 75 couples (to their home), they had to find a larger venue. They moved the house party to a restaurant in the French Quarter (in Jax Brewery) and started advertising on the web. As the parties grew in size and frequency, people from all over the country started attending. Finally in 1999, the 1st convention, N'awlins in November, was born. Located by the New Orleans airport, almost 180 couples attended that 1st weekend. Their concept of taking over an entire hotel was a big hit and everyone that attended had a great time. Eventually, the event would move downtown, onto Bourbon St, and swell to over 1,000 couples.
Bob and Tess have produced conventions in New Orleans, Miami, Key West, Chicago & Las Vegas and hosted group trips to Amsterdam, the Mediterranean, Thailand, Jamaica & Mexico and founded Couples Cruise in 2006.
In addition to providing couples with 1st class events, Bob and Tess are very devoted to advocacy and legal issues in this lifestyle. They have been on many boards, advisory councils and have befriended many other lifestyle business owners in an attempt to bring higher standards and more professionalism to our industry.
We at World Exotic Travel have partnered and collaborated with Bob and Tess frequently over the years. We started as Dream Pleasure Tours and worked closely with them on Couples Cruise and Naughty N'Awlins. More recently, we did a very successful Island takeover in 2017. We named it Fantasies Island – Bob and Tess dubbed it Naughty Island. Either way, 21 couples had an amazing week in Belize!

Naughty at Hedo 2020
Saturday March 28 2020 and Saturday April 04 2020
In order to qualify you must book a min of (5) Five Nights Between Saturday March 28 2020
and Saturday April 04 2020
Default Payment Plan
1 Night Deposit Due at time of Booking
30% of Balance Due By 11/09/2019
80% of Balance Due By 12/19/2019
Final Pay Due By 01/28/2020
We are willing to work with any Budget Please Call Us At 1-833-2-GET-WET
We are willing to work with any Budget Please Call Us At 1-833-2-GET-WET


Cancellation Terms


Any cancellation made Before 11/28/2019 is subject to a $150 / person cancellation fee.
Any cancellation made on our After 11/29/2019 is subject to 25% Penalty
Any cancellation made on our After 12/30/2019 is subject to 50% Penalty
Any cancellation made on our After 01/28/20 is subject to 100% Penalty