Funny Fun Under The Sun - October 3 - 10, 2020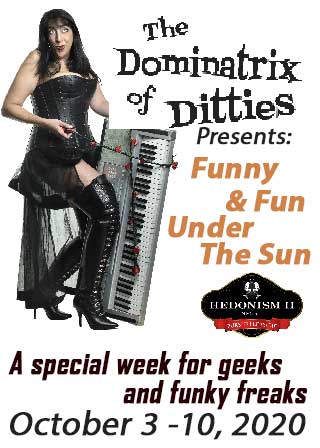 A special week for sexy geeks and funky freaks
Hosted By World Exotic Travel, The DOD & CBD

(Committed Boyfriend Doug)
Hey! It's Traci, The Dominatrix of Ditties. Look, I'm turning 51 on Oct 5th and there's no place I'd rather be than Hedonism II with some freaky f*ckers like yourselves. Committed Boyfriend Doug (from here forth to be known as CBD) and I would love to see you at Funny and Fun Under the Sun (a special week for erotic geeks and funky freaks)! Of course everyone is welcome to hang with us, but if you're the kind of person who thinks the brain is the largest sex organ and enjoy exploring your erotic limits…then you need to be with OUR group! CBD and I are planning lots of good stuff: a piano bar takeover/comedy show ON my birthday, my world famous Swinging 201 "Are We Going To F*ck Or What" class, and "an erotic affirmations and meditations." When you sign up you'll get the added bonus of becoming a Close Personal Friend of the DOD for FREE where you'll get exclusive video and audio content not available on YouTube, as well as other bonuses such as 20% off merchandise, special seating at events when available, special invites to stuff like this, and my unconditional love (which honestly, you'd have anyway).
Looking forward to see you Oct 3rd if not sooner…
Big titty hugs and swinger love from the DOD and CBD
Traci
ROOM TYPE

Nightly Per

Person

Garden View Reg.
$190.00
Ocean View Regular
$223.50
Garden View Nude
$212.00
Ocean View Nude
$244.50
Nude Beach Jacuzzi
$299.00
Nude Beach Jacuzzi Premium
$390.00
Classes will include:
Swinging 201: Are We Gonna Fuck, Or What?
Let's Get This Play Party Started!!! If you're tired of spending hours of time getting to know the couple only to find out they don't play, aren't ready to play, or worse yet, the couple that is nothing but DRAMA...then this workshop is for you! You'll leave this workshop with loads of information on how to find couples, approach couples both online and in person, what questions to ask to see if they're DTF (Down To Fuck) and compatible with you and your partner. Learn 3 questions you should ask so you can spot the drama long before your play date, and how to exit your play session gracefully when shit goes south.
The Dominatrix of Ditties Comedy Show Piano Bar Takeover and Traci's Birthday
Voted Top Female Lifestyle Entertainer 2015, 2016 & 2017, and Best Entertainer at Vegas Exchange 2013!!! The Dominatrix of Ditties is a nationally touring musical comedian, that "whips" up laughs with a sexy, refreshingly unique and fun musical comedy show about the swinging and BDSM lifestyles. The show is a collection of her experiences, many of which will be shared by you: becoming a nudist, getting into swinging, deciding between soft swap and full swap, being straight vs being bi, experimenting with BDSM, all while hiding this secret life from her family and friends! Listen and laugh while she shares her sexual experiences that span private encounters, swing clubs and conventions, house parties, dungeons and cruise ships...all with hilariously disastrous results!
Laughing about the Lifestyle; Comedy Story Telling Secrets by The Dominatrix of Ditties
If you've ever thought about being a comedian, or wanted to share your best, weirdest, and strangest lifestyle story...this class is for you! The Dominatrix of Ditties will give you tips on how to tell the best lifestyle story, which is YOUR STORY, in the funniest way possible. Learn basic joke writing skills and the story telling secrets of standup comedians so you can tell your best lifestyle story with amazing confidence followed by the laughter of your friends. You'll have the next 3 days to ask Traci for advice, while you prepare your story for a special presentation on Friday night.
Erotic Meditations and Affirmations
The largest sex organ you have is YOUR BRAIN, so let's use it in a new way to make your sex life even better! Attendees will have the option to participate in a fun, sexy, erotic meditation and affirmation session so you can experience first-hand the power of what your mind is truly capable of and the erotic pleasures waiting for you. You'll also leave this session with a recording of the session which is yours to keep so you can enhance as needed. Singles and Couples are welcome to attend. Cum as many times as you like! Attendees will receive bonus affirmation suggestions they can use for their continued lifestyle enhancement.
Laughing about the Lifestyle; your way!
For those who participated in The DOD class "Laughing about the Lifestyle" on Tuesday. Attendees will have the option to tell their best lifestyle story using the tips and tricks taught by the Dominatrix of Ditties.
Private Lifestyle Coaching Sessions - by appointment only
As a Certified Hypnotist & Certified Hypnotherapist with 10 years Lifestyle Experience, Traci will be available throughout the weekend to help NIN Attendees with any lifestyle challenges you may be experiencing. Common requests are performance issues with condoms and/or in a play room, being with a new partner, erectile dysfunction, premature ejaculation. Traci also works in helping with self esteem and confidence issues, and/or transforming negative past experiences into empowering lives. Please email Traci at This email address is being protected from spambots. You need JavaScript enabled to view it. to see how a private coaching session would enhance your lifestyle experience. All inquiries are strictly confidential.
Traci's Bio:
In the lifestyle 10 years, your edu-tainer, Traci, The Dominatrix of Ditties was voted Top Female Lifestyle Entertainer of the Year in 2015, 2016, 2017 & 2018. She's also a private practice Certified Hypnotist and Certified Hypnotherapist with over 2000 hours of training, as well as a published author of the book "Hey, And Other Scintillating Mating Calls From The Online Dating World." www.dominatrixofditties.com www.wingshypnosis.com www.heytraci.com



About Hedonism II
"Hedonism II, or Hedo, breaks the boundaries of other Lifestyle-friendly, clothing optional, adult only resorts. It's the world's most iconic adult playground! If you've dreamed it, wanted it or wished for it - make it happen! Explore yourself as you explore the sensual and liberating environment of Hedonism II.
Live out your fantasy. Explore your wants. Escape your inhibitions. Life is short - Do it now! At Hedonism II, you can:
* Fill your days with pool parties and your nights with dancing
* Enjoy world class cuisine and late night snacks
* Have your favorite cocktail before noon.....shhh, we won't tell!
* Activities all day long, or just relax on the beach
* Meet new like minded people or catch up with old friends
* Do something new - snorkel from the beach or enjoy a Hobie Cat
* Go skinny dipping - in the ocean or in the pool
* Enjoy a walk on the beach
* Relax in one of the many beachside beds or hammocks
* Explore your wild side
Hedonism II is a sandbox for your inner child, and nourishment for the mind, body, spirit, and soul. With absolutely everything included in one upfront price, you never need to think about money—not even tips—just what to do next…And, if you desire – with whom!"



Theme Nights

MONDAY- JAMAICA NIGHT
A Jamaica themed party. Dress in the Jamaican colors Black, Green & Gold.
TUESDAY – BARE AS YOU DARE GLOW POOL PARTY
Dance under the stars and light up the night with all things glowing, blinking and flashing. Make a splash in your sexiest swimwear.

WEDNESDAY – FETISH NIGHT LEATHER & LINGERIE
One of the biggest and best event nights! Dress in leather & lingerie or whatever fetish you want to explore, then prepare to indulge your fetish fantasies.

THURSDAY – TOGA & FOAM PARTY
One of our most popular theme nights at Hedonism II, dress in your sexy toga for dinner, sign-up in the day to be a part of our talent show then hit the disco after our Toga Parade & Contest for our foam party at 11pm. Get slippery and wet in this high energy atmosphere. Dress Code – swimsuits or Togas.

FRIDAY – ROCK STAR
"Ever wanted to be a rock star? Live out the fantasy in this fun filled theme night."

SATURDAY – SEXY SPORTS NIGHT
Show your Sexy team spirit in whatever sport that turns you on.

SUNDAY – HEDONISTIC SCHOOL GIRL
Break all the rules you never could! Wear your short plaid skirts. Principals, nerds, and jocks you can join in the education, too.

Themes can cange without notice



Did you know if you booked 12 nights in the same calendar year you will get $700 in hedo bucks good for extra nights, spa, wine bar or giftshop!



Default Payment Plan
1 Night Deposit Due at time of Booking
30% of Balance Due By 04/06/2020
80% of Balance Due By 06/05/2020
Final Pay Due By 07/05/2020
We are willing to work with any Budget Please Call Us At 1-833-2-GET-WET

Hedo's - Cancel For Any Reason Policy - Only $25/ Person
Purchase Cancel For Any Reason Waiver within 7 days of your initial deposit and you will be allowed to cancel or change your hotel arrangements up to the day of departure for any reason. This Cancellation Waiver does NOT cover flights, lost baggage, trip interruption or any optional activities such as sightseeing, spa/salon services, wedding license processing fees and extras. The Cancellation Waiver only covers the cost of your hotel stay. The Cancel For Any Reason Waiver may not be purchased after you have made your final payment for your Trip. This Cancellation Waiver Benefit is provided by Hedonism II and is not an insurance benefit. IMPORTANT: THE CANCELLATION WAIVER DOES NOT OFFER A CASH REFUND BUT ALLOWS YOU TO CHANGE DATES WITHOUT PENALTY. THE VALUE OF YOUR HOTEL PORTION WILL BE TRANSFERRED TO A FUTURE DATE UP ONE YEAR OF ORIGINAL TRAVEL DATE. AVAILABLE UPON CHECKOUT

Travel Insurance By AIG
Click Here to get you free quote - http://www.travelguard.com/agentlink.asp?ta_arc=51744825

Airport Ground Transfers
Airport Transfers are only $50 / person and are available upon checkout

Airport Flight Transfers
JamAir from MBJ - Negril one way is only $107.50 / person`
JamAir from MBJ - Negril round trip is only $187.50 / person`


Cancellation Terms
Any cancellation made Before 121 Days is subject to a $100 / person cancellation fee.
Any cancellation made on our After 06/05/2020 is subject to 25% Penalty
Any cancellation made on our After 07/06/2020 is subject to 50% Penalty
Any cancellation made on our After 08/04/20 is subject to 100% Penalty

Non refundable portions may apply
If you have purchased - Club Mobay - Cancel For Any Reason - VIP Transfers - JamWest
Travel Insurance And many other addons they maybe limited or offer no refund at all
Payment Plan
Deposit Due on Booking $250.00 /Person
A Total Of 20% is Due By: Friday, January 4, 2020
A Total Of 80% Due By: Friday, May 31, 2020
Full Payment Due By: Sunday, June 30, 2020
CANCEL FOR ANY REASON
Purchase Cancel For Any Reason Waiver within 7 days of your initial deposit and you will be allowed to cancel or change your hotel arrangements up to the day of departure for any reason. This Cancellation Waiver does NOT cover flights, lost baggage, trip interruption or any optional activities such as sightseeing, spa/salon services, wedding license processing fees and extras. The Cancellation Waiver only covers the cost of your hotel stay. This waiver is from Hedonism II and not W.E.T. The Cancel For Any Reason Waiver may not be purchased after you have made your final payment for your Trip. Your trip must also be paid in full in order to file a claim. This Cancellation Waiver Benefit is provided by Hedonism II and is not an insurance benefit. IMPORTANT: THE CANCELLATION WAIVER DOES NOT OFFER A CASH REFUND BUT ALLOWS YOU TO CHANGE DATES WITHOUT PENALTY. THE VALUE OF YOUR HOTEL PORTION WILL BE TRANSFERRED TO A FUTURE DATE UP ONE YEAR OF ORIGINAL TRAVEL DATE
THE VALUE OF YOUR HOTEL PORTION WILL BE TRANSFERRED TO A FUTURE DATE UP ONE YEAR OF ORIGINAL TRAVEL DATE = 09/27/20